Barbie Color Reveal Neon Tie-Dye Doll
Barbie Color Reveal dolls deliver an unboxing experience full of surprises -- seven of them! A doll with a neon bright tie-dye dance outfit is guaranteed, but each one's neon look remains a mystery until revealed. The packaging is part of the fun -- pull the strip to remove the outer layer and reveal a clear tube. Inside are a Color Reveal Barbie doll, whose full look is hidden behind a neon tie-dye coating, and four bags with surprises. Remove everything and fill the tube with warm water, then insert the doll and swirl around. The three neon colors merge into a pink, and when the doll is pulled out, the features are revealed! Each Barbie doll has long neon-colored hair with a bold style and a colorful bodice, but the surprises continue…open the bags to discover a tie-dye print skirt, purse, pair of earrings, brush and shoes. Color-change effects on each doll's cheeks add to the surprise and fun. Find the rare doll that also includes a Color Reveal kid-sized charm bracelet and two charms! Each series has a unique theme -- these Color Reveal dolls stand out with Neon Tie-Dye party-ready looks. Use the tube to store these and other favorites. Which doll will you reveal? Kids can collect them to mix and match accessories and expand the possibilities! Each sold separately, subject to availability. Dolls cannot stand alone. Colors and decorations may vary.
Our products meet industry standards for quality through a rigorous testing process so you can be confident in the products you buy—every time.
Every purchase is backed by a 30-day money back guarantee. Love it, or return it—no question asked.
View full details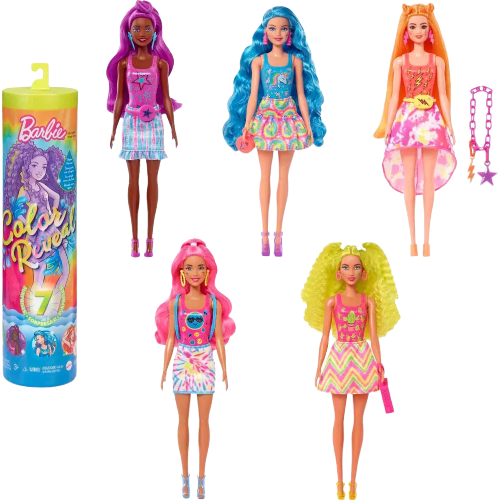 Barbie Color Reveal Neon Tie-Dye Doll