Disney Doorables Mega Peek 44628 Mini Figures
Behind every door a bigger surprise is in store with the Disney Doorables Ultimate Mega Peek – Series 8 collectible figures. Unbox 20 mystery – and 10 exclusive figures. Imagine the fun of recreating favorite scenes – and inventing new adventures for favorite Disney characters. The packaging even doubles as a fun setting for play and display! Each character stands approximately 1.5 inches tall and has signature Disney Doorables stylized detailing and glitter eyes! Figures within this Target Exclusive Set include Ralph, Wynnchel, Duncan, Stitch, Angel, the Rainbow Unicorn, Hathi, Jr., Baloo, Taffyta Muttonfudge, and Rancis Fluggerbutter. The 20 mystery figures from Series 8 includes characters from the stories of Disney's Hercules, Alice in Wonderland, Wreck-It Ralph, Glittery Disney Fairies, Toddler Disney Princesses, Disney Pixar's Turning Red, and 6 pearlized translucent figures from Monsters, Inc. There are even 6 special edition scented figures, and two limited edition figures with unique collector coins from Disney's Lady and the Tramp. Recreate the magic of beloved tales Disney Doorables collectible figures and playsets. A fun toy for kids ages 5 and up.
Our products meet industry standards for quality through a rigorous testing process so you can be confident in the products you buy—every time.
Every purchase is backed by a 30-day money back guarantee. Love it, or return it—no question asked.
View full details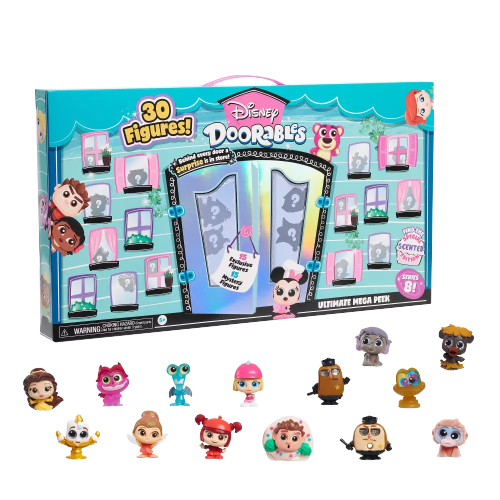 Disney Doorables Mega Peek 44628 Mini Figures