FAO Schwarz Pottery Wheel Studio All-In-One Sculpting Workstation
Enjoy hands-on fun with the FAO Schwarz Pottery Wheel Studio. Use the spinning wheel to explore your creativity and create containers, cups, creatures, and anything else you can imagine. Switch between left-handed and right-handed modes to ensure any user is comfortable when operating the pottery wheel. Once you're done shaping the clay on the wheel, use the included tools and paints to model and decorate your creation. Don't let a cluttered workstation prevent you from expressing yourself. The set features built-in storage for all the tools, paints, and accessories so you can focus on bringing your vision to life. When you feel your clay creation is complete, use the lid as a drying rack to let your sculpture harden before painting.
Our products meet industry standards for quality through a rigorous testing process so you can be confident in the products you buy—every time.
Every purchase is backed by a 30-day money back guarantee. Love it, or return it—no question asked.
View full details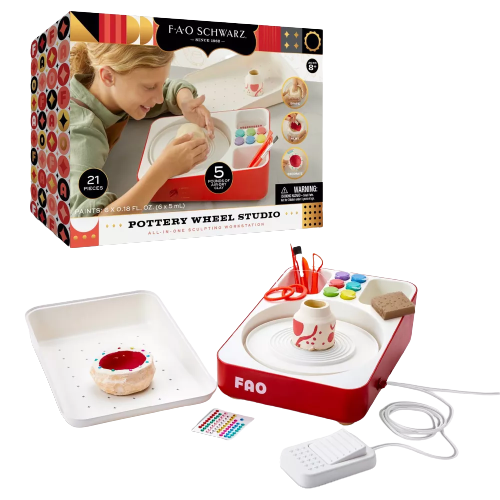 FAO Schwarz Pottery Wheel Studio All-In-One Sculpting Workstation