Fisher-Price Slow Much Fun Stroller - Sloth
Description
The Slow Much Fun Stroller Sloth from Fisher-Price is a sweet first friend for your newborn. The sloth easily attaches to the stroller, so your baby can explore its soft and crinkly fabrics, bright discovery mirror, and exciting motion, wherever they go. Just grasp and pull its hand down to see the sloth slowly "climb" back up the branch! Where development comes into play Sensory: A variety of textures, from the sloth's soft body to the branch's satiny and crinkle leaves, excite your baby's tactile senses as they explore. Gross Motor: Reaching for, grasping, and pulling the sloth's hand to see it "climb" the branch helps strengthen your baby's gross motor skills. Curiosity & Wonder: This silly sloth introduces your baby to the fun of cause and effect as they discover how to make it move by pulling on the hand.
Our products meet industry standards for quality through a rigorous testing process so you can be confident in the products you buy—every time.
Every purchase is backed by a 30-day money back guarantee. Love it, or return it—no question asked.
View full details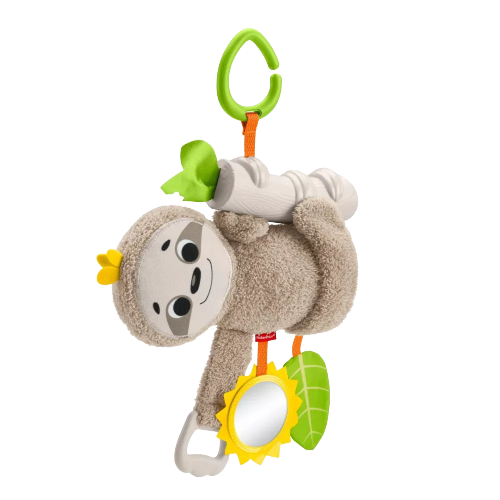 Fisher-Price Slow Much Fun Stroller - Sloth