Munchkin Bath Letters and Numbers - 36ct Bath Toy Set
Little ones love to learn and bathe - so why not extend teaching to the tub for double the fun? This set of 36 floating letters and numbers comes in six fun colors, clings to bathroom walls when wet, and provides endless opportunity for bath time learning. You can help your child identify the alphabet, learn to count, spell simple words, or group by color. The foam is soft, durable and non-toxic. So splish-splash, when they're taking a bath... throw in a little education too.
Highlights
Alphabet bath toys include 26 floating letters (A-Z) and 10 floating numbers (0-9)
Educational letters and numbers stick to tub walls when wet
Made of soft and durable non-toxic foam
Great for teaching letters, learn to count, spell simple words or identify or group by color
Great for boys and girls 18 months and up
Our products meet industry standards for quality through a rigorous testing process so you can be confident in the products you buy—every time.
Every purchase is backed by a 30-day money back guarantee. Love it, or return it—no question asked.
View full details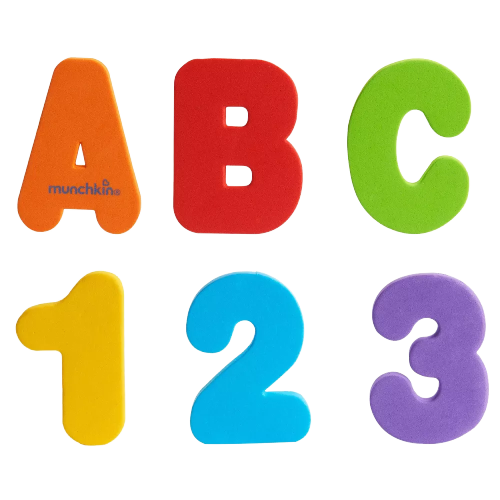 Munchkin Bath Letters and Numbers - 36ct Bath Toy Set