Open The Joy Feel Better Activity Bag
Designed by therapists, Open the Joy's Feel Better Bag transforms difficult times into days filled with fun, laughter and creativity. No need to take out dozens of toys and crafts to lift your child's spirits, this kit has it all with over 25 boredom busters. Whether your child enjoys arts and crafts, magic tricks, or aspires to be a little builder, they are sure to find something therapeutic and fun in this activity bag. And parents will love that each activity helps build life skills and emotional intelligence through play! In addition, the kit includes 10 kindness missions for kids to complete, making the world a brighter place. All materials included, no need to scramble looking for supplies.
KIT INCLUDES: 60+ Page "Feel Better" Activity Book, 13 Paint Pods (5ml), 2 Paint Brushes, 6-in-1 Jumbo Marker, 50 Sheets Assorted Colors Origami Paper, Googly Eye Hand Puppet, 6 Coloring Posters, Large Jumbo Origami Game, Deck of "Would You Rather" Playing Cards, 3 Tubs of Air-Dry Clay, Stickers, Square Canvas (9x9).
Our products meet industry standards for quality through a rigorous testing process so you can be confident in the products you buy—every time.
Every purchase is backed by a 30-day money back guarantee. Love it, or return it—no question asked.
View full details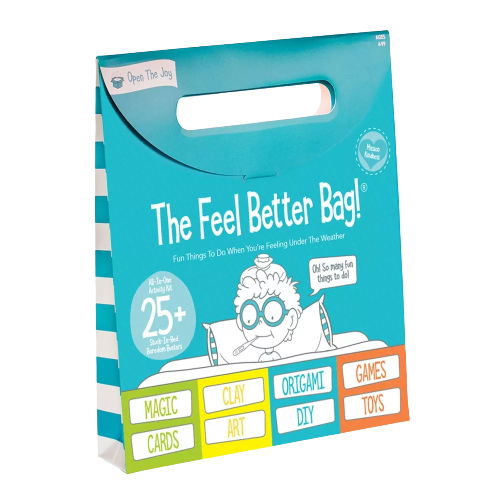 Open The Joy Feel Better Activity Bag