WowWee Pop2Play Hot Wheels Slide
Made for kids with parents in mind! Pop2Play, from WowWee, introduces a new and innovative way to play without a big mess getting in the way. This storable, pop-up playset can be assembled in under 5 minutes and folds flat for easy storage! Each Pop2Play Hot Wheels™ Slide is made from super durable StrongFold cardboard that can hold up to 50 lbs, and be wiped clean with ease. The Pop2Play Hot Wheels Slide also doubles as a racetrack for your very own Hot Wheels vehicles! Ideal for kids aged 2-5, it's the first of its kind playset that can transform any living space into the perfect playroom and then folds flat behind, or under, any couch or bookcase out of the way! Each Pop2Play Hot Wheels Slide comes with 1 fully assembled slide. Product size: 59"L x 25"W x 28"D.
Our products meet industry standards for quality through a rigorous testing process so you can be confident in the products you buy—every time.
Every purchase is backed by a 30-day money back guarantee. Love it, or return it—no question asked.
View full details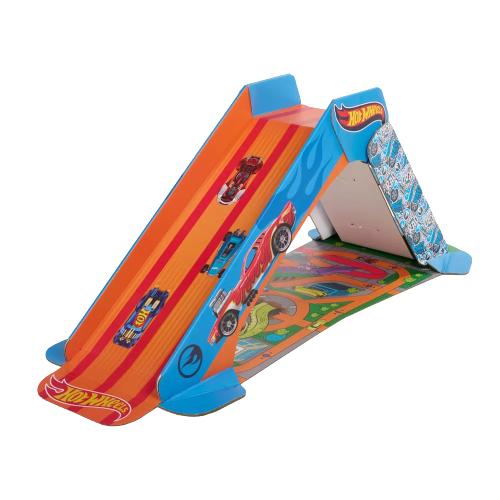 WowWee Pop2Play Hot Wheels Slide